The new Indian prime minster is setting out to fix India's energy problems, which could bring massive business opportunities for the LED and solar industry. Newly elected prime minister, Narenda Modi, wants every household across India to have at least one light bulb by 2019.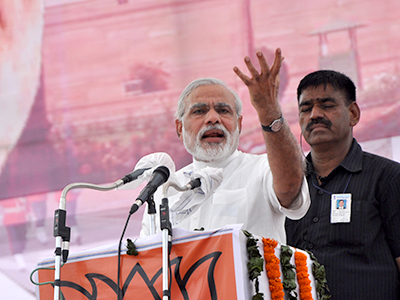 Narenda Modi, India's new PM. (photo courtesy wikipedia)
India has the second largest population and staggering energy needs, which is anticipated to double by 2020, according to the World Bank. Currently, around 300 million people are not connected to a power grid and 27 percent of power is wasted due to technical failures, said the World Bank. In 2012, 700 million people lost power for two days during sprawling blackouts, which are common in India. Additionally electricity prices are not cheap. Lower income families unable to afford the steep prices must resort to cheaper and more dangerous alternatives such as diesel generators.
Although Modi did not specifically say LED lighting was part of his plan, it is an obvious direction for the clean energy minded Indian government since LEDs consumer far less electricity than traditional lighting.
Modi also intends to expand the solar industry. His promise to improve energy consumption in India will make India a hot market for the solid state lighting market in the next few years.
上一条: Philips, the world's biggest lighting maker, has reported a 38% jump in first quarter LED sales from a year earlier.
下一条: Thailand Government to Keep LED Tube Prices Low and Affordable